... please don't phase me in ...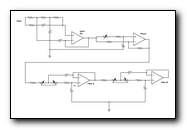 Small subwoofers try to squeeze 10 pounds of performance into a 1 pound box. Thus, they need to 'adjust' the amp response to provide reasonable performance from a driver and volume smaller than could be considered optimum. The Force Sub uses a 250W OEM amp to power a custom 10" driver and achieves remarkably good performance of 20-250Hz ±3db. The Force is no longer manufactured, but its principles are the same for small sealed subs.
The Force Amp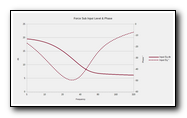 The amp has a large 15db @10hz low end gain starting @ 40Hz to linearize the driver and box.Whenever an equalization is applied, Phase is affected.
The amp has an All-Pass filter to adjust phase, but the Input Gain phase shift negates the phase control markings.
The filter section consists of two 12db/oct 35-250Hz filters. 2nd Order filter phase is about 180° at 1 octave below the corner frequency. Both Level and Phase are cumulative, thus by careful adjustment of the two filters one can approximate a desired level and phase within the limits of the filters. The left graph shows the combined response of A Filter 130Hz and B Filter 180Hz.